Why Choose Moissanite?
At Vosali, we understand that you want quality, beauty and true value—it's why we created our Vosali Moissanite Rings line. With even more brilliance and more sparkle than a diamond at a fraction of the cost, our Vosali Moissanite Rings line strikes the perfect balance between beauty and value.
Whether it's for your special love or just for yourself, our Vosali™ Moissanite Rings will make you smile with every glance.
Buy Now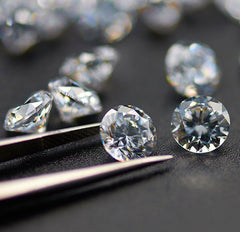 What is Moissanite?
Moissanite is a gemstone born from the stars. It has more brilliance, fire and lustre than a diamond. Moissanite is ideal for an engagement ring due to its better quality, better value and being better for the environment than a mined diamond.
Learn More
Moissanite vs Diamond
Moissanite is more beautiful than a diamond, having more brilliance, more fire and lustre than a diamond. Brilliance, fire and lustre define the beauty of a jewel. The more of these qualities the better. Moissanite is the most beautiful jewel in the world.
Buy Now
A word from our happy customers
This ring resembled the real thing for a fraction of the price. The gem is a very nice clear color, and it's brilliance sparkles very nicely in the light. It's a great gift without the breaking the bank, and I would recommend for anyone on a budget or looking for an environmentally friendly and sustainable ring.
★★★★★

Whitney T.
The sparkle is unbelievable! Its definitely sterling silver ( I have horrible metal allergies so I have to either get silver or gold.) I've worn it for about a week and have accidentally smacked my hand and inevitably the ring on all sorts of things and haven't had any issues. I didn't want a standard diamond and this is perfect!
★★★★★

Emma M.
Gorgeous ring! The stone is sparkly and beautiful — big enough to make a statement, but not overly large where it looks ridiculous. Setting is high enough to pair with other rings, so they'll sit nicely together. Arrived packaged very nicely with a lovely box and moissanite certification papers. I'm very happy with this purchase!
★★★★★

Evelyn A.
I am obsessed with my new engagement ring! It is so sparkly and beautiful! It looks JUST like a diamond!! You will not be disappointed! Highly recommend Vosali for anyone shopping for a beautiful ring!
★★★★★

Rebecca N.